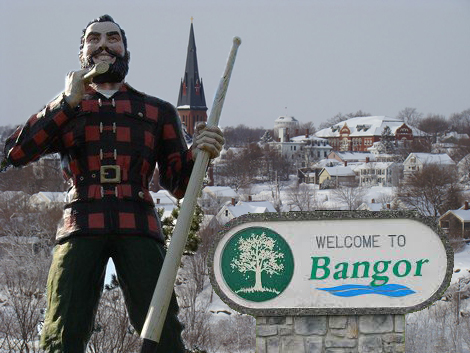 Stop looking at your watch, it's not 2009. As DIRECTV moves closer to its goal of turning off all standard definition broadcasts in 2019, it still has a bit of work to do. Surprisingly, not every TV market served by DIRECTV actually has HD channels, and so losing SD ones would be a huge problem. In fact, as of last week DIRECTV only served 121 of the 210 metropolitan areas in the US with HD channels.
Make that 122.
DIRECTV subscribers in Bangor, Maine woke up this morning to find a little bit more to enjoy. The city's local channels -- WLBZ/NBC, WVII/ABC, WABI/CBS, WFVX/FOX and WMEB/PBS, are now in beautiful HD for the first time. Welcome to the 21st century, citizens of Bangor.
With an area population hovering around 153,000 and a location that combines heavy snowfall and a difficult path for aiming a dish, the truth is that DIRECTV probably isn't awesomely popular in Bangor. But every dog has its day, and if you're an urban dweller who has enjoyed HD since 2007, you should welcome Bangor into the growing HD family.
It remains to be seen whether DIRECTV will actually be able to migrate all of its local stations to HD before SD service stops. If not, there may still be some SD local channels, although it's possible they will be migrated to the MPEG-4 technology used by HD local channels. Since DIRECTV has in recent years moved aggressively away from over-the-air antenna support, there will have to be some path to get those smaller markets ready for the transition that will take place when DIRECTV retires the last satellite in its 119 degree orbital slot.
In the meantime, let's all toast the fine people of Bangor, where the weather is a "pleasant" 43 degrees as I write this and the future for satellite TV has never been brighter!