OK, so first of all I'm still a little bitter that I didn't get an invite to the New York press conference reveal of "DIRECTV NOW," the new streaming service from AT&T. After all, I'd like to think that I have a certain amount of cachet in the DIRECTV universe, but at times like this, I feel like…
But it's not my bitterness about a missed trip that really gets me going. I want to write a fair review of what I know about the new service, and to be honest I'm writing this, having learned most of what I know from other online sources. So, it's only as accurate as the sources I'm getting it from.
What is DIRECTV NOW?
DIRECTV Now is actually three services. One of them is "DIRECTV NOW," a package of live TV streaming. I'll focus on that one first. I learned a lot about it from this press release, which goes over pricing options. DIRECTV NOW gives you live TV — only live TV — at a price you can afford. There will be several packages, and this graphic has been circulating around: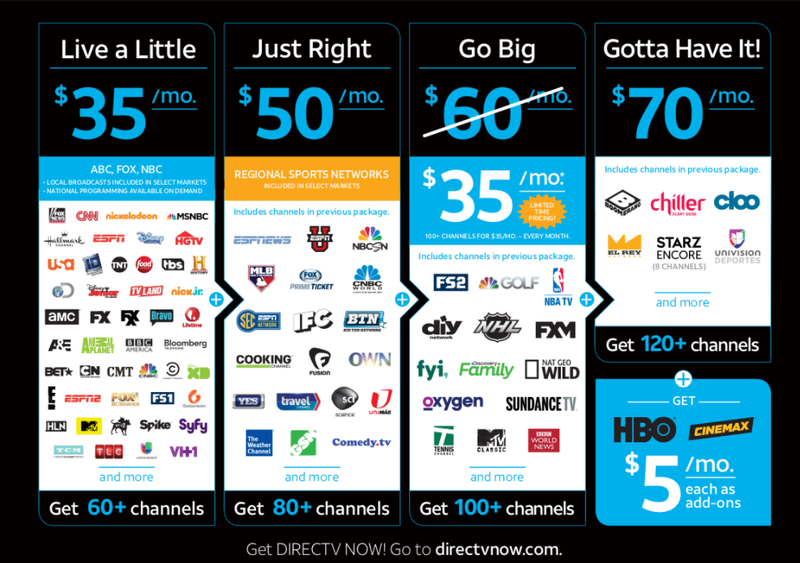 which shows that if you sign up now, you'll get the "Go Big" package which includes everything in the two packages to the left, for $35 a month. That's a lot of channels for $35 a month. There's also some talk of a free AppleTV if you prepay for 3 months but so far the terms and conditions of that offer are still behind a passworded wall.
What are the details?
First of all I'll tell you that I have seen some user interface screens but I can't post them, yet. I'll post them in a couple of days once it's clear that it's safe to do that. The screens are very easy to understand and very modern looking. They don't look anything like the current DIRECTV guide or the DIRECTV app, which is a good thing since the onscreen guide is beginning to look a little old. But if you're comfortable with using any sort of scrolling guide it won't be a problem.
What you're getting here is a LIVE TV Experience ONLY. There's no pause, no DVR, [strike]no on demand.[/strike] I'll explain that last part in a minute. If you're looking at this as a replacement for a full-featured DVR experience, well… it isn't that. They say there will be some functionality like that next year but right now if you enjoy pausing live TV you probably want to wait.
DIRECTV NOW can be used on two screens at once, and it's not clear if you can install the app on multiple devices and just use only two at the same time. That's probably the way it will be done, since that's how everyone else does it.
What about the channels I want?
That list is going to be different for different people, but if you look at that graphic you'll see that a lot of the top channels are included. However, when it comes to local channels, you'll only get them if the network owns the local stations. This is great for people in New York, Miami, Philly, Los Angeles… other large cities, but it's just another way the little guy in rural America gets the shaft, unfortunately.
And, there's no CBS.
Right. No CBS, not anywhere. We can hope that will be resolved but for now, no CBS. If you want CBS you will have to subscribe to their All Access app or use an antenna. In fact, using an antenna is a great way to get local channels no matter where you are, and if you add an inexpensive antenna DVR, you'll pause live TV and record to your heart's content with nothing but that little black box and a flash drive.
What about the other two services?


It looks like there will be a service called "Freeview" which will give you some free, sponsored content but we don't know what it is. The good news, and pretty much the only news, is that it will be free.
The other service is called "Fullscreen" and from the look of it it's a service not unlike Hulu which will offer some recent and not-so-recent on demand content for about $6 a month. Seems like a must-have if you're missing your DVR already. It's hard to know if it will be able to compete with Hulu because the content selection hasn't really been announced.
Where's the "big win?"
The big win here is for people who want cable channels without cable. For $35 a month you simply can't beat this selection. It's all live TV, but if that's how you watch TV you're golden. Add an antenna and you have all the locals you want… potentially you're talking about over 150 channels when you include free local TV.
This is being marketed to millennials because, well, everything is, but I personally think it's going to be a big draw to seniors because they actually watch live TV and this is a great option for those on a fixed income.
This is also a big win for AT&T Wireless customers because all of this content will come to your phone without any data charges. You can't say that about Sling TV, Hulu, or anything else. So if you're already an AT&T cellular customer this is a much better deal than any other streaming service.
For everyone else, at least everyone reading this article, you'll have to make up your own mind. There's no DVR, [strike]no on demand,[/strike] and while some people can get some locals, there isn't anywhere in the US that you can get all the local channels as part of this service. Personally I hope this launch is big for them. I know that a lot of time has been invested into it and I do see a service like this as a big part of the DIRECTV offering in the coming years.
When will it be ready?
Some stuff is actually ready today, and most of it will be ready tomorrow. Go to DIRECTVNOW.com or Fullscreen.com for more information….
…or keep the DIRECTV service you love right now and add an antenna to get all the local channels you want.