When I want to know which products are really moving out of our doors, I talk to someone in Signal Distribution. That's the division responsible for the logistics of the entire company. Its employees know which are the hottest products because they pack those devices and ship them every day. I asked Earlene Burden, warehouse manager, what's selling like hotcakes. She said the Xtreme Signal HDB4X and HDB8X TV antennas. She added, "They've been moving left and right since I got here this morning!" It's not hard to see why this outdoor TV antenna is so popular. It receives high-definition VHF, UHF, and FM signals from 70+ miles away!
The Cord-Cutting Revolution
Look, there's not surprise why this antenna is so popular here at Signal Connect. More and more people are choosing to cut the cord. This means they're quitting cable TV and getting a TV antenna instead. Why? Because an antenna will help you get most or all of the FREE local stations and sub-stations in your TV market. Imagine getting a huge variety of entertainment without that monthly cable bill. That's the essence of the practice of cord-cutting. The TV antenna is central to cutting the cord, and these two Xtreme Signal bowtie antennas offer a great way to do this.
The Xtreme Signal TV Antenna Brand
Before we take a look at these two antennas, let's first examine the Xtreme Signal brand. This is Solid Signal's house brand of TV antennas. Having been in the antenna business for more than 10 years, Jerry Chapman, the company's founder, knew which aerials delivered the best TV-viewing experience. He launched the Xtreme Signal line of outdoor TV antennas. These products snag far-away TV signals, which makes the perfect for cord-cutters who live in rural areas far from most local TV station transmitters.
You might have noticed that both of these antennas are called "bowtie antennas." This nickname refers to the x-shaped pieces of metal, which are shaped like bowties, affixed to the front of the aerial. These configurations, also know as "cat's whiskers," help the antenna capture TV signals. Bowtie antennas are particularly good at grabbing UHF TV signals – channels 14-51 – sometimes from far off distances, depending on the antenna's configuration. In the case of these Xtreme Signal bowtie antennas, it's not uncommon for these units to receive VHF stations with transmitters within 20 miles of their location.
The Xtreme Signal HDTV 4 Bay Bowtie Antenna
This might be the antenna you need to grab those UHF signals up to 45+ miles away. (As well as those VHF signals from up to 20 miles away.) Despite its power, this TV antenna is relatively small. At 20" wide by 32" tall, which makes it perfect for anyone who has to live with homeowners association (HOA) rules. It also features antenna reflectors that block interference to provide the best signal-to-noise ratio for clean HD reception. Is made to be mounted outdoors on your roof or eaves, but it also can be used inside.
This outdoor UHF antenna also comes with these features:
Maximum gain: 14.2dB

Beam width approximately 60° wide (out of 360°)

Includes mounting hardware; compatible with masts up to 2″ outer diameter

Front to back ratio greater than 23dB to isolate digital channels and reject interference

Six-month limited warranty
8-Bay Bowtie Outdoor TV Antenna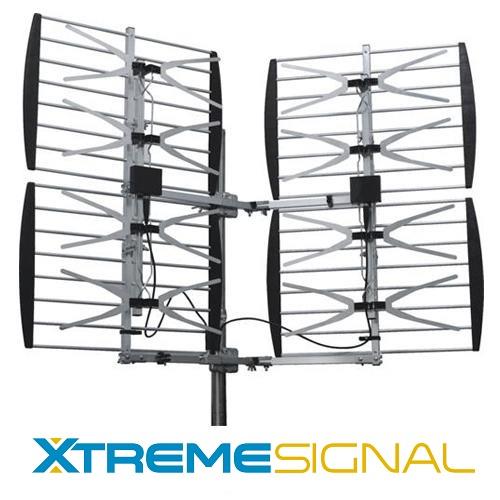 If you live a little further away from your local TV transmitters, this TV antenna might be the one for you. It's one of the strongest low-profile HDTV antennas Solid Signal carries. You'll be able to grab most or all of those UHF signals from up to 70 miles away with this model. (VHF signals within 20 miles can also be receive.) Its eight-bowtie design delivers the power of many 10' antennas, but in a small form factor. At just 47" wide by 32" tall, this antenna is also perfect for people who live under strict HOA guidelines. It's also great for anyone who doesn't want a huge antenna growing out of their roof.
This outdoor UHF antenna comes with these features:
17.5dB of gain for ultra-high reception

Directional design offers reception within a 60° beam

6-month limited warranty

Comes with: HDB8X TV anenna, mounting clamp, weather boot, and instructions
"Which Xtreme Signal Antenna Do I Need?"
We highlighted two TV antennas, which might lead someone to ask this question. The answer could be as simple as how far you live from your local TV transmitters. If you're within about 40 miles, the four-bowtie antenna should be ideal. Any farther than that and you might want to consider the eight-bowtie model. There's really only one way to be sure, and that's to call the antenna experts at Solid Signal.
The ideal antenna for you depends on factors such as distance from the broadcast towers, signal direction, and overall terrain to name just a few. If you're cutting the cord for the first time, it's best to submit an antenna request. This allows our techs to evaluate your position and determine the best antenna solution for you. You can also contact our U.S.-based call center at 888-233-7563. One of our techs will be happy to help you get the best TV antenna.