If we're hosting an Antenna-Thon, Winegard has to be at the party!
It's hard to think of TV antennas and not think of Winegard. The company's founder John Winegard invented the multi-channel Yagi antenna. Since the company's incorporation in1953, it's designed more than 1,000 antenna models. We're celebrating this history of innovation by offering savings on some of its products. But first, we want to tell you…
…What Makes Winegard Great
It comes down to quality. Winegard operates a state-of-the-art lab in Burlington, Iowa. It's where all the company's products are made. These devices feature some of the most advanced technology in over-the-air TV. Winegard makes its antennas from the highest-grade American steel and aluminum. These and other items are made by American workers. All this helps define the Winegard experience.
Save Big with Solid Signal!
As you know, April is Antenna-Thon here at Solid Signal. Throughout April, we're offering huge savings on many TV antennas and related products. Today, we're calling your attention to the Winegard promotions we've been running since April 1, 2020. If you already know what you need, just go to our Antenna-Thon page and place your order. If you'd like to know more about the Winegard products we carry, read on!
1. Winegard Coupler/Combiner
What is this? Bottom line, this device is ideal for cord-cutters with multiple TVs in their homes. This two-way dual TV antenna coupler/combiner lets everyone watch the channels they want. If you're getting this, here's a pro tip: run equal lengths of coax cable from each antenna to this unit. This eliminates multipath and out-of-phase signals to give you the best reception.
2. Winegard Metrostar Antenna
You won't need a rotator with this omnidirectional antenna. It delivers 360-degree reception up to 35 miles. It also comes with a built-in pre-amplifier. It's great for boosting signal loss from long cable runs and splitters in your installation. The Metrostar's compact design makes it perfect for anywhere with homeowners association rules. Best of all, it's easy to install!
3. 39" J-Mount
We recommend this antenna mount to many people who need to install a TV antenna or satellite dish. Why? Because it's one of the most versatile mounts on the market. It works with flat or angled roofs as well as under-eave mounting. Plus, the foot can be used on either end of the pipe to help you get the best angle. The 1.66" outer diameter of the pipe works with most TV, cellular, Wi-Fi, and radio antennas. You can also use this to mount many types of satellite dishes.
4. Heavy Duty Platinum TV Antenna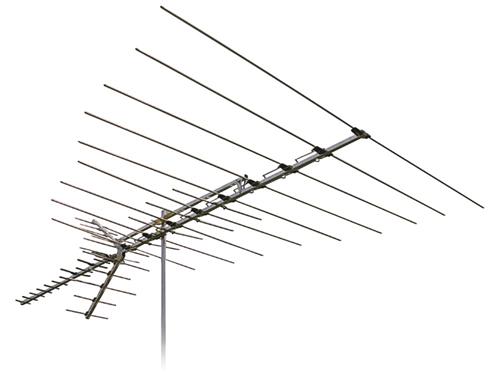 You can cut the cord even if you live far from the TV transmitters. There's a good chance this Winegard outdoor TV antenna can help you do that. Its powerful yagi design brings free TV to low-signal areas outside the city. Since it's made of zinc-plated, high-quality steel, you don't have to worry about corrosion. Just mount it on top of your roof and enjoy free TV for years.
Call Solid Signal and Save!
Antenna-Thon offers you great prices on the Winegard products you need to cut the cord. But it won't last forever. We encourage you to order today. And if you have any questions, call our customer service department at 888-233-7563. You can also fill out the form below and send it to us.