RVs offer all the comforts of home. With kitchens, beds, and bathrooms, they give you the confidence to travel anywhere knowing you'll live a life of luxury and safety. But in 2022, there's more to life than just eating and sleeping. You have to stay connected. Sure, a phone will keep you "on the grid" but what if you want to get some work done? What if you want to settle in for a night of communal TV streaming? You'll want an internet solution that works for all your devices, not just your phone.
Introducing GOTSPOT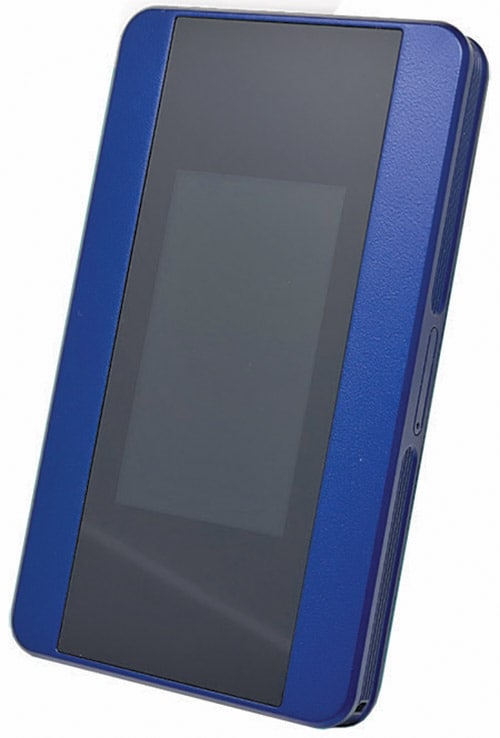 This is the GOTSPOT from Solid Signal. Depending on your screen, you might even be seeing it actual size. It's about the size of a small cell phone, a little bigger than a deck of cards. This magical device does what you really want: it provides Wi-Fi to up to 8 connected devices in your RV, simply and easily.
Sign up for a data plan and you'll get fast internet that you can use to work, stream, or shop from any Wi-Fi connected device. It's compact and can even run on battery for hours on end so it can be taken on a hike!
More than a hotspot, it's a GOTSPOT
Hotspots aren't new technology. The problem is that they're often difficult to use and unreliable. How many times have you heard someone complain "oh I'm on a hotspot, I'm having problems." In the last few years, that's become almost as common as saying to someone "you're still muted." The GOTSPOT has a large display which shows you what's going on and even gives you the Wi-Fi information you'll need to connect. It's designed to be easy and work perfectly.
According to the manufacturer, the GOTSPOT can connect up to 8 devices located up to 50 feet away. This makes it perfect for an RV. Use it to get that streaming box going, or to check important work emails from your PC. It's the missing link that lets your non-cellular devices use cellular internet.
The real "magic formula"
If you really want the best performance, you'll add a cell phone signal booster to your RV. A booster like this Drive Reach RV from weBoost is a great addition. It's a one-time purchase that improves cellular signal for all the devices in your RV. It installs easily and gives you better signal instantly. It's rugged and will outlast not only the phones you have now, but probably the next ones and the ones after that.
With a cell phone signal booster and a GOTSPOT, speeds up to 300Mbps are possible, although of course you know I have to say "your mileage may vary."
Need help deciding? Call the experts!
The perfect solution is waiting for you when you shop at Solid Signal. But we're not just an internet store. We specialize in real, honest customer service! Our experts can help you choose the right products and even give you installation advice before, during, and after the sale! We have experts in our Novi, Michigan corporate office who will walk you through the process from beginning to end. They'll even be available to you for questions long after you've purchased.
The process starts with a call to our corporate offices at 888-233-7563. We're here during East Coast business hours. If it's after hours, fill in the form below! We'll get back to you, usually within one business day.