It's been officially announced. Pending government approval of course, Viacom and CBS will merge to become one of the largest media conglomerates in history. They'll join AT&T, Disney, and Comcast as bona fide titans in the entertainment industry.
Here's what it means
This sheet from the merger presentation lays it all out. This will be one big company. Obviously CBS and the CW are part of this, but so is Paramount, Nickelodeon, MTV, Showtime, and others.
For the first time in a generation, Star Trek movies and TV shows will be part of the same company. So will Mission: Impossible movies and shows. It seems to me that given the success of those two franchises lately, this has to be at least part of the motivation for all of it.
This deal has been on the table for over a year and at times it looked like it wasn't going to happen. But it just took some time, and now it looks like all the details are done.
All credit to Shari Redstone
It was Shari Redstone, daughter of one-time CBS/Viacom head Sumner Redstone, who is seen as the architect of this deal. Ms. Redstone has served for years on the boards of both companies and sought to reunify them several times. The companies were actually part of one media empire until the mid-2000s when they split apart for economic reasons. It was a particularly messy split and neither company was ever truly independent.
The most interesting part of this deal
Pluto TV is a tiny little bit of the Viacom portfolio but in the future could end up being a major part of ViacomCBS's strategy moving forward. Industry insiders have been watching Pluto TV for some time because it could just be the future of streaming television, or all television for that matter.
Here's a new idea… commercials
Now that cord-cutters are faced with bills as big as regular pay-TV customers, there's a push to try to get a lot of content out there for people who don't want to pay a lot. Pluto TV picked up on an old idea — programming with commercials — and ran with it. You'll find about 100 channels of live TV on Pluto TV's app, plus a few thousand on-demand movies, all with commercial breaks. They average about 10 minutes of commercials per hour for now.
Since Viacom bought Pluto TV about a year ago, rumors have been running rampant that the app will pivot to show more Viacom-owned content, such as classic ComedyCentral, MTV, and Nickelodeon fare. Now, it looks like the entire CBS and Paramount library will be open to Pluto TV's programmers if they want it. Of course I'm sure that the real premium stuff will stay with CBS's All Access app but if you're looking for classic TV this might be a good way to get it.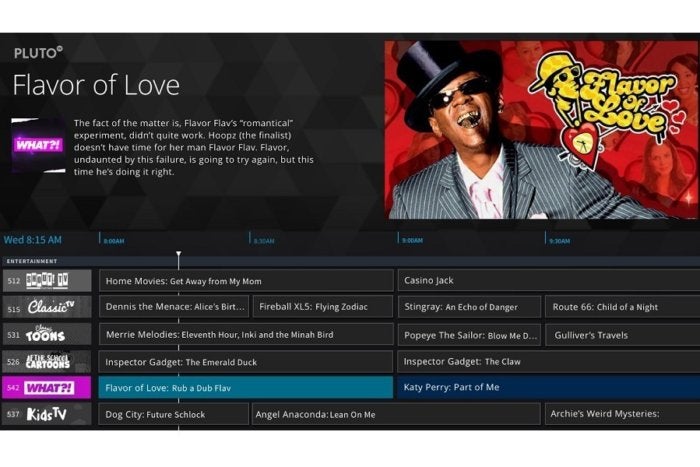 Pluto TV looks and acts like an old-school cableTV system with a full guide that even has channel numbers. The content is arranged around very specific themes. There's one channel for game shows, one for cat videos, and so on. Most of the content isn't very exciting but there are some news channels that are actually pretty good.
The hitch is that it's all live and it's all filled with commercials. There's no pause or rewind, except in the on-demand content, and you can't zap past commercials, period. But then, it's totally free which is really nice.
I personally think Pluto TV will benefit the most from this change, and I would be very surprised if they didn't add an I Love Lucy channel, a Star Trek channel, and a Mission: Impossible channel almost right away after the deal is approved. I would certainly end up watching one of those pretty often.
Where does this leave ViacomCBS in the grand scheme of things?
Despite the pretty-looking graphic at the top, the future ViacomCBS wouldn't be quite at the same level as other titans. Take a look at this chart and you'll see that the new company just won't have its hooks in as many markets as competitors.
Off-
Air
Nat'l Stns
Pay TV
Internet
Cell
Theme Parks
Premium Streaming
Movie Studios
AT&T
X
X
X
X
X
X
Disney
X
X
X
X
X
Comcast
X
X
X
X
X
X
X
ViacomCBS
X
X
X
X
It still looks like AT&T comes out ahead, thanks to being the only provider with strong, premium content and three different ways to distribute it.
Also in the grand scheme of things I would be remiss if I didn't say that ViacomCBS isn't a terribly good name. CBSViacom would have been better, but arguably either one is better than Tronc.
I do expect that the government will approve this deal because it approved Disney/Fox and AT&T/TimeWarner. This is arguably a smaller, less impactful deal than either of those and while it does make for a tighter media landscape, I think you can say that ship has sailed. If the tide shifts away from these large companies it won't be due to a CBS/Viacom merger but instead a reaction to the entire media landscape.