Comet TV recently made the jump from OTA to a streaming box app. Does this mean that other sub-channels will follow Comet into the streaming world?
A partnership between Sinclair and MGM, Comet TV is an antenna broadcast network that offers 24-hour science fiction and horror programming. Cord-cutters are familiar with Comet as it's usually offered as one of a few sub-channels in nearly every TV market across the country. Now you can stream its content thanks to its recently released apps for Roku (series three and four) and Apple TV (generation four). The app broadcasts from 9 AM-3 AM Monday through Friday, and from 6 AM to 3 AM on Saturday and Sunday, which allows streamers to stream the station's more than 1,500 hours of MGM sci-fi and horror content.

Look for this app in your streaming box's app store.
Comet TV's streaming addition is great news for those who like sci-fi and horror movies, but what does it mean for other sub-channels? Can we expect Buzzr, This TV, and GetTV to release a similar streaming app to Roku, Apple TV, and/or other devices? What about Cozi, MeTV, and Heroes & Icons? Will these popular antenna TV sub-channels also get in on the growing trend of streaming content? Although I have no evidence or link to back this up, my personal opinion is that streaming apps for these others popular sub-channels are likely right around the corner.

Editor's note: Jake Buckler liked this image. We've had worse pop up in articles.
If there's one thing I know about the streaming services it's that they are in competition with each other. Whether it's acquiring original content – or any content at all – the big and small streaming services seemed locked in a battle of constant one-upmanship with each other. If Comet TV has a streaming service, I think it's a fair bet that other sub-channels will ink deals for these services too. This is especially true if Comet TV's streaming app gains large viewing numbers. The quicker that happens, the quicker these other popular sub-channels will hop on the streaming bandwagon. It's only a matter of time… maybe.

Will their love be rekindled online? Will she swipe right for him?
The possibility of streaming sub-channels truly rests upon the popularity of the programming each one offers. Some if not all of these channels offers some rather niche programming, some of which is more popular than others. Take Buzzr, for example. While reruns of classic game shows have their appeal, I'm not sure these shows are as popular as the western, crime dramas, and action movies that are shown on Heroes & Icons, for example. The popularity of any given sub-channel will truly be the factor that determines whether it will be offered as a streaming option.

Buckler isn't a network executive. This guy was a network executive.
I'm no network executive, but I think it's a fair bet to say that bringing a sub-channel's content to a streaming service involves plenty of meetings, lawyers, and paperwork. Neither side will want to go through this time-consuming and costly process if there isn't a substantial incentive at the other end. Splitting an existing audience between streaming and antenna TV, there won't be much value in that for the networks or streaming services. So if I had to risk a guess, I would say we can expect the most popular of these sub-channels will likely follow Comet TV's lead.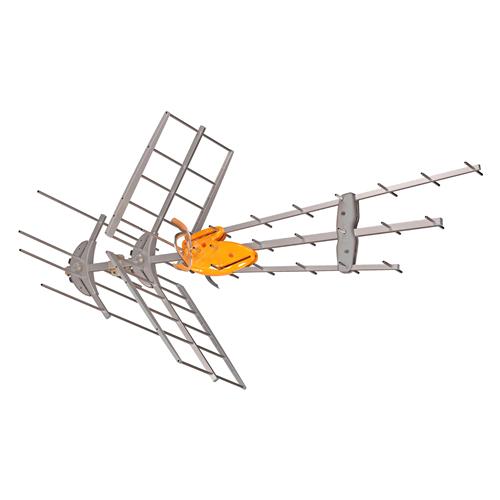 Shameless plug: buy this antenna.
For now, streamers who want to enjoy sub-channels such as Buzzr, This TV, and more need to have a TV antenna in their homes. That's actually a good idea because these devices deliver a wide range of programming spread out across a number of channels and sub-channels. That said, I do believe the day is coming where we'll be able to stream classic game shows, movies, and other programming offered by this group of popular sub-channels. Until then, we'll just keep on streaming and dreaming.