November 20-26, 1999
This week Ken welcomes fellow Boston Comedian and child of neglect Katie McCarthy.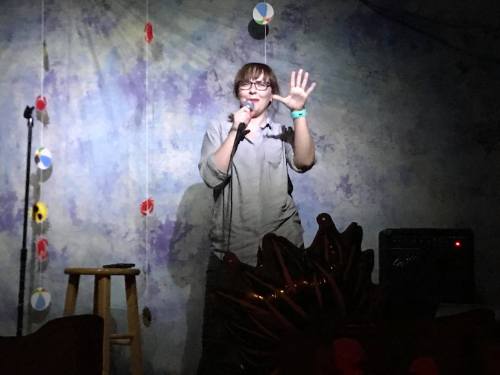 Ken and Katie discuss growing up in Lynn, Bambi v Godzilla, being an indoor kid, cops, drama club, Catholic School, being on Student Government, Celine Dion, The Peanut Butter Solution, Drake, Degrassi, Wrestling, Cable Access, pig dicks, The Lawrence Bros, Premium Blend, Margaret Cho, Janeane Garofalo, Teen Magazine, "He Touched Me", old perverts, mush brain, name tags, Orson Wells, Strangers with Candy, cringe jokes, Wes Hazard on Jeopardy, Jesus, Richard Simmons loving chicks, clowns, late night, puking after eating waffles with Billy Corgan, end times, Dilbert, Angel, Touched by an Angel, The Heights, shocking cats, Judging Amy, evil men, Tori Amos, James Van Der Beak, Pini's Pizza, Two Guys, a Girl and a Pizza Place, Somerville, hiding in your room on Thanksgiving, bad stand up, Home Alone 2, Ricky Martin, Welcome to the Dollhouse, Market Basket, Cheerleading, and sexual Supermarket Sweep.
About Ken Reid
I'm Ken Reid, a stand up comedian from Boston, MA and a life long television fan. I've been twice nominated as the Best Stand up in Boston and I have been featured on Comedy Central, NPR, Nerdist, and MSN. I own every issue of TV Guide. Each week a guest chooses an issue at random, picks their viewing choices from that week and the show is our discussion of the tough viewing choices of our past. We get into stories about growing up, people's relationship with television, some cultural/media studies dissection and I spit out a lot of trivia.
Note: The Ken Reid TV Guidance Counselor Podcast is rated PG-13 and may contain mild language.