Autumn is officially here. It doesn't matter how you count it. You could count the "official way," meaning that the season starts on the autumnal equinox on September 21, the "way everyone does it" on Labor Day, or if you're really clever, whatever day that Dunkin' or Starbucks rolls out the Pumpkin Spice Latte. No matter… the season is here and it's time to get started on a few projects that will keep your home theater system working for months to come.
Replace that worn-out cable
Remember last year when the TV went out whenever it got really cold? The problem stopped in the spring and you always talked about fixing it. But, you started watching Tiger King and then other stuff happened…
Make good on that promise by replacing flaky cables with high-quality custom-made ones from Solid Signal. These cables are made to the highest standards and work well for cable, satellite, and antennas. You choose the right length and we deliver just what you need.
SHOP FOR CABLES AT SOLID SIGNAL
Deal with snow on the dish once and for all
This HotShot Dish heater may not look like much but it's a simple, peel-and-stick solution that will give you clear reception year-round. The heating element only uses power when it needs to, and it's safe in even the worst weather. Heating up the dish allows snow to simply melt off, stopping buildup that would eventually cause reception problems.
SHOP FOR A DISH HEATER AT SOLID SIGNAL
An antenna will keep you connected in an emergency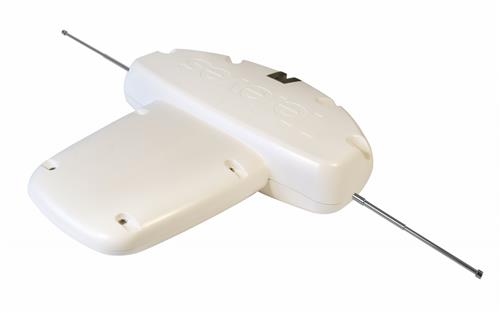 You may think that you're completely set with streaming and cable or satellite. But the truth is that you'll need a TV antenna if you want to stay connected when you really need it. A DiNova Boss antenna like this one installs easily and works well with or without power. Connect one of your televisions to a UPS system and you'll stay connected for hours and even enjoy a little bit of entertainment.
Remember, power failures aren't the only times you lose connection. Cables can be cut by falling trees and even cell towers can go down. With an antenna mounted inside or outside your home, you'll have a better chance of knowing what's going on while you're snowed in.
SHOP FOR A TV ANTENNA AT SOLID SIGNAL
Pump up your emergency kit with a super-flashlight
Every emergency kit needs a flashlight. But this is no ordinary flashlight. The Tech Choice M7 is a super-bright flashlight that will light up the night with 4000 blazing lumens. It's rechargeable over USB, meaning that there's another item you'll want in that emergency kit…
The Tech Choice Solar Power Bank will keep this flashlight or any of your devices charged by collecting solar energy. Keep it in your emergency kit with a MicroUSB cable and you'll have light when you need it.
GET THE FLASHLIGHT GET THE POWER BANK
Not every project needs to take all day
As you can see, with just a few parts from Solid Signal, you can get a lot of that winter prep done in just an hour or so. That will give you plenty of time to get back to the important things, like watching football!