It's not just you. CES coverage this year has been a bit of a yawner.  I'm willing to bet you've been looking at a bunch of other sites for news of the big show in Las Vegas. Don't feel sheepish, I read those blogs too.
I learned that the same show that is offering closed-door demos of VR porn chose to retract an award designed to offer, uh, a non-virtual reality experience to women. Reading on, I learned that there are big TVs and more big TVs and they look, for the most part, like big versions of smaller TVs. Not only that I learned that CES is even more of a car show than it ever was before.
I learned about a bunch of personal robots which, I am forbidden by libel laws from saying will murder you in your sleep. I learned that vendors think that people want to spend time with robots and pets at the same time.
But is any of that news?
Will CES fail anytime soon?
Several years ago there was a plan to relocate the CES show outside of Las Vegas. People complained and that plan was abandoned. If the show had moved, it would have definitely morphed into a very different show. In fact, CES is a very different show, and most people never see it.
If CES were truly all about big TVs, it would be on the verge of failure. But it isn't. Every year the blog team spends more time in closed-door meetings and less time on the show floor. It's pretty obvious that a lot of the lookie-loo types have stopped coming to the show, leaving more room (and more cabs) for the folks like us who are here to do business.
Every year, CES inches closer to its roots as a marketplace for manufacturers to talk directly to retailers. This year, as last year, there is a huge tent where Chinese manufacturers interact directly with buyers. It seems a little less busy this year because of political concerns, but it's still bustling.
Is the media getting savvy?
I think that if you, the average viewer, are bored with CES coverage then it means the media is losing interest too. They're showing less, because there is less that interests them. That's a win for almost everyone. You're not getting your time wasted with silly puff pieces on the news.  However, companies like Google, LG, and Samsung lose big when they spend massive amounts on huge booths hoping for tons of media coverage.
I haven't actually seen a lot of coverage about anything except LG's roll-up TV, and that's been sort of weird too. The news isn't that LG's showing a roll-up TV. The news is that they roll-up TV they showed last year is actually going into production. That's right, something that isn't vaporware. It's almost like the media are laughing at the tech industry by pointing out the rare product that will actually reach shelves.
Winner of the show: Apple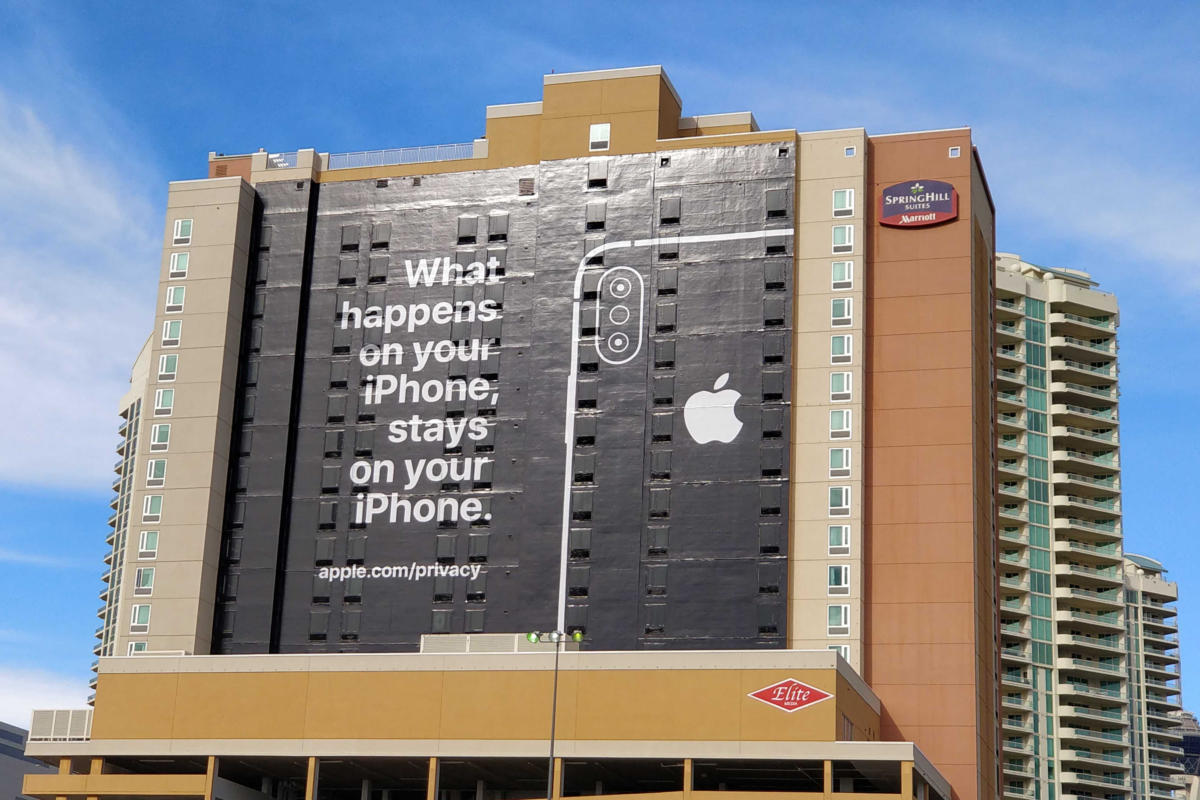 Surprisingly, I'd say the winner of the show is Apple.  Apple hasn't been at CES, probably ever. Certainly not in the 13 years I've been paying attention. In fact they used to have their own convention, Macworld, on the same week. While Apple is still a no-show, they kind of won the show anyway with this massive billboard plastered on a hotel next to the convention center.
Macworld magazine (the same people who used to manage the show) point out that the billboard's claim isn't completely factual. Facts do matter, and it's worth pointing out that much of Apple's data does flow securely to its cloud servers. It does not stay on your iPhone. If you have crappy apps that steal your data, even if they made it through the App Store process, they can still steal your data. Apple's point, made by appropriating one of Las Vegas' own slogans, is that iPhones tend to be more secure than Androids. It's hard to say if that's really true; it's more true to say that iPhones don't let you do skeevy things that Androids let you do.
None of that is the point. Google spent a kajillon dollars wrapping every monorail with its name, putting up tents and giant gumball machines. Apple gets all the attention, with just one ad.
More to come
Tomorrow we'll have more CES coverage, and I promise, I'll try to keep it fun and different. Don't take me to task if I give you one picture of giant TVs, but I'll try to keep the number of pictures down.