OK folks, let's be honest. It's December. Even if you're in the southern part of the country it's likely to be a bit chilly for you. If you're up north, chilly doesn't even begin to describe it. And so, you're probably not thinking about outdoor TV antennas. But you've been here before. You've probably thought about a TV antenna during the winter. After all, cables break, and satellite dishes can get covered with snow (unless you have a dish heater.) A TV antenna gives you reliable, free TV anytime you want it. It's not affected by rain or snow. It's just a friend that's there for you in tough times.
But, let's be honest. When you can safely put up that antenna, you're probably not thinking about it. When you need the antenna, it's generally not safe to put it up.
The perfect solution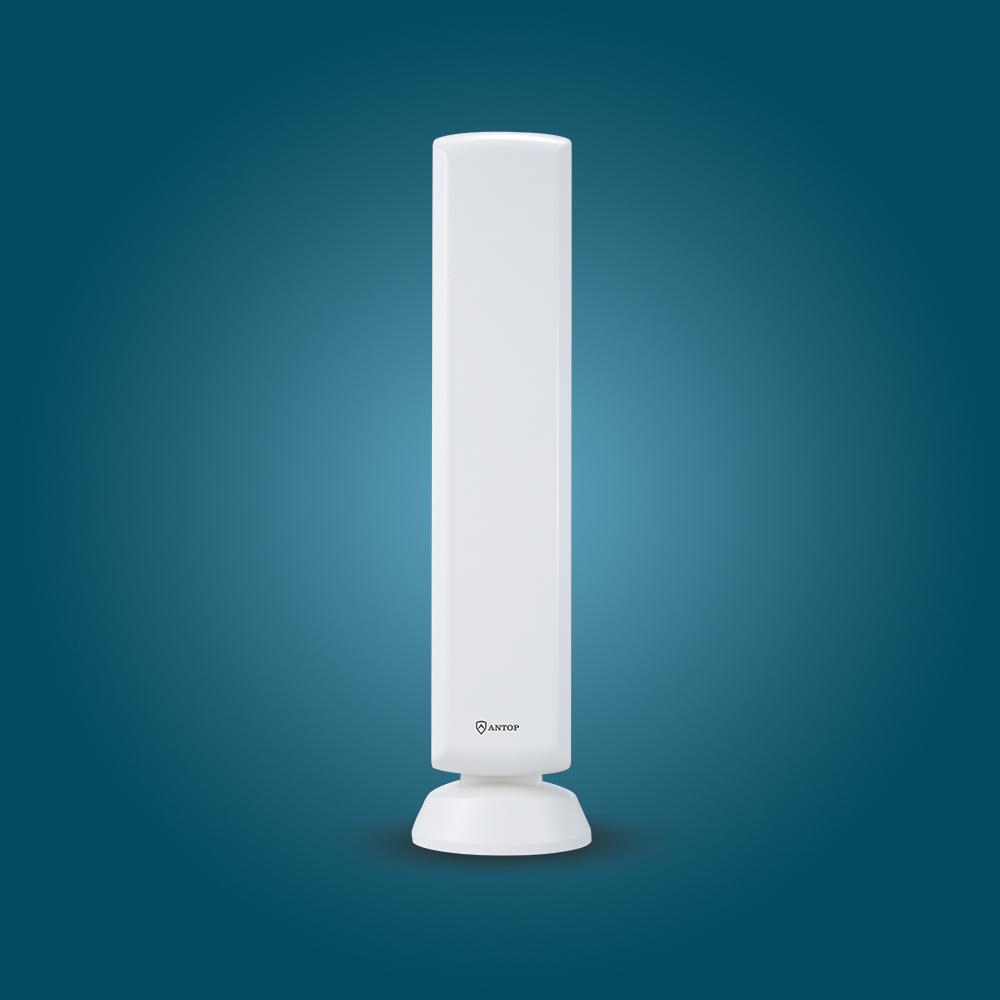 This is an indoor/outdoor antenna from Antop. It's small, slender, and actually looks kind of cool. With its included stand, it will sit somewhere in your home just looking sort of Star Trek-y while it provides you with dozens of free TV channels.
If you're getting the reception you want, you can leave it inside. A lot of people do. But, if you want even more out of this antenna, you can mount it outside with the proper hardware (everything but the mast and mount is included.) This makes it the perfect antenna to buy when you're thinking about antennas, and the perfect antenna to use in the summer when you're not.
Check out the whole Antop line
You probably haven't heard of Antop, because they don't have a very high profile in the USA. For most of the time they've been in business, they've been a contract manufacturer. They've engineered and built antennas for some of the largest companies in the world. They only started selling antennas in the US under their own name a few years ago. Solid Signal carries a good selection of Antop products, from small indoor antennas to larger outdoor ones. They also make the UFO, a really top-notch omnidirectional antenna that beats out the other omnis in price and performance. It's a great choice for home, RV, truck, or even yachts.
Not sure which antenna to get?
Choosing an antenna can be pretty confusing. There are so many models, and while some look like the traditional "aerial" you grew up with, they now come in all shapes and sizes. Bigger isn't necessarily better, and the current crop of small antennas has better performance than a lot of the older big ones. It's all about where you live, how high up you can get the antenna, and how much work you're interested in doing. And that can make it confusing.
Don't buy an antenna from a big web site without any support. If you need help, fill out this form. It will be reviewed by a real antenna professional. I'm not talking about an app with pre-programmed responses. I'm talking about a real person who will review everything and give you what you need. They'll get back to you — usually in a day or so — and let you know the perfect solution for you!