This past week, YouTube Red premiered Cobra Kai, a sequel series that brings back Ralph Macchio and William Zabka to reprise their roles from The Karate Kid. They're older and wiser now, but obviously still enemies as you can see from this promotional still: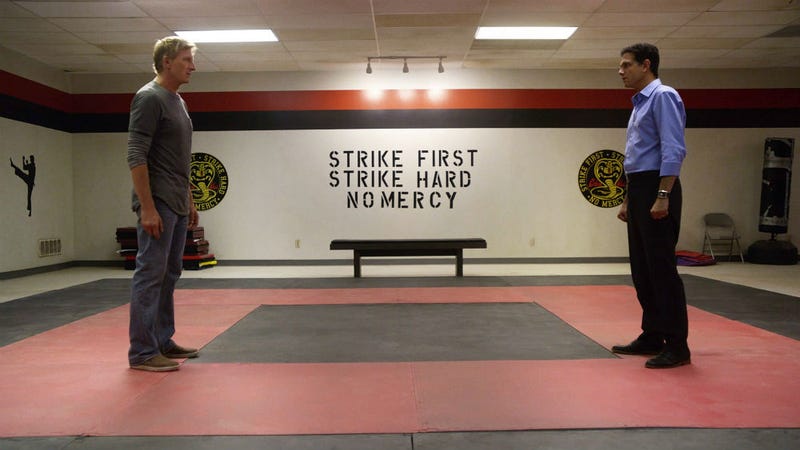 First the good: It looks from early reviews that this is a good series, and that Messrs. Macchio and Zabka are playing close to their actual ages. (The baby-faced Macchio played a teen in the movie, but was closer to 23 when it was shot.) It concerns a whole new generation of Karate Kids (didn't we just do that with Jaden Smith?) and the rise of a reconstituted Cobra Kai. Apparently neither of the older characters have kept up their karate in decades, but this new development brings them both back together.
Now, the bad: you'll probably never see it. I know I won't.
A bridge too far
Why? Because it's on "YouTube Red," the paid version of YouTube. Folks, I already pay for several streaming services and I'm about at my limit. I famously paid for CBS All Access when Star Trek: Discovery was on but I complained about it constantly.  Literally the last thing I need is to spend another $9.99 a month on another streaming service, especially one without a lot of original content.
So I'm not going to say I'll never pay for YouTube Red (I made that mistake with Hulu) but I just can't see myself doing it now. After all, there is just so much other stuff out there on other services. I'll miss finding out just what happens to Daniel-san, whether he will ever wax on and wax off again, but I suppose I'll have to be ok with that.
But hey: make up your own mind. Here's a look at the trailer:
As I said, it looks pretty good and it's just a shame that it's one streaming service too many for me. I know they have a free trial if you're so inclined, but I'll have to pass on this one.