Antenna-Thon continues with this blog post about a high-quality TV antenna lines we carry. We're talking about Televes antennas!
You want to cut the cord to get free TV. What you don't want is an antenna that will end up looking and performing like that old "aerial" on top of grandpa's house. You need a high-quality antenna that you can rely on. For that, we recommend one of the many Televes TV antennas Solid Signal carries. We want to tell you what these antennas can do for you. To do that, we'll tune to everyone's favorite radio station: WIIFM… which stands for "what's in it for me?" Well, here are the four advantages that Televes offers cord-cutters:
1. High Performance
A Televes antenna works better than any so-called aerial you might pick up at your local retail store. This is important for anyone who's going to go up on the roof to mount these things. When you do that, you want a set-it-and-forget-it operation. Only an antenna of the highest-quality can give you that level of confidence. Televes is that antenna!
Televes makes its antennas at a state-of-the-art manufacturing center in Santiago de Compostela, Spain. Our resident blogmaster Stuart Sweet visited the company headquarters in 2017. He was blown away by the Televes' manufacturing process. He recalled, "From the parts, processes, and the workers themselves, everyone there is dedicated to quality. It's no wonder these antennas perform as well as they do!"
2. Strong & Durable Construction
While these antennas' insides are high-tech, the outsides are strong and durable. Remember when we said set-it-and-forget-it? You only get that kind of confidence from something that's going to withstand all sorts of weather. Televes antennas are built to withstand sun, sleet, rain, and snow. This is the antenna you need when you cut the cord and rely on over-the-air TV.
3. Long-Range Reception
If you live far from the transmitters in your TV market, you'll appreciate this. Televes antennas are long-range antennas. The antennas featured in this post grab signal from 60-75 miles away, depending on the model. If you've struggled to get channels with lesser antennas in the past, try one of these Televes antennas. Chances are great that you'll be enjoying most or all of the channels in your TV market.
4. Built-In Amplifiers
These Televes TV antennas all have a built-in amplifier that amplifies weak signal. This lets you watch faraway and low-powered TV channels as well as the others. But what if you don't need an amplifier? Remember that these devices also amplify static and interference if you have it. Well, can turn it off and not use it. When it comes to TV antenna amplifiers, it's better to have it and not need it than the other way around. The minds at Televes understand this and they have you covered.
So, That's What's in it for You…
…Now let's take a look at these high-tech Televes antennas. Here are four of the company's outdoor models. Each one of them offers a variety of features and benefits. The most notable includes being able to receive signal from far away.
Dinova Boss Mix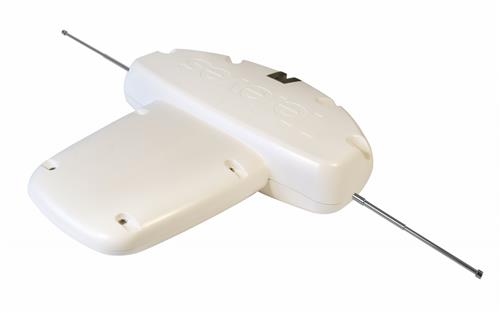 This antenna has a 60-mile range. Its compact size makes it perfect for anywhere that's governed by homeowners association (HOA) rules. (These regulations often limit the size of the antenna you can put on your roof.) This usually means apartments, condos, and similar dwellings.
Buy the Dinova Boss at Solid Signal
DATBOSS Mix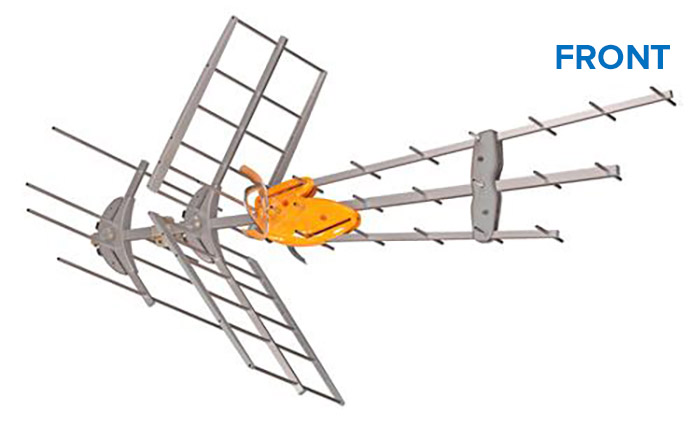 This powerful antenna is actually three yagi-style antennas in one. This helps give it a 60-mile range, making it ideal for anyone who lives in rural areas.
Buy the DATBOSS Mix at Solid Signal
DATBOSS HD Boss
Televes calls this antenna "the boss" for good reason. It's high-quality yagi design and various features give this antenna a range of more than 60 miles. If you live far away from the local TV transmitters, this could be the antenna you need.
Buy the DATBOSS HD Boss at Solid Signal
DATBOSS Mix LR
The "LR" in its name stands for "long-range," and this antenna lives up to the claim. It receives channels from up to 75 miles away. This makes the DATBOSS Mix LR ideal for anyone living in deep-fringe areas. This includes valleys and anywhere else that's far from local TV transmitters.
Buy the DATBOSS Mix LR at Solid Signal
Ready to Cut the Cord?
Now is the time to do it. It's Antenna-Thon, and a Televes TV antenna might be exactly what you need. There's only one way to know for sure. Solid Signal is the preeminent online TV antenna retailer. Give us a call so our reps will ask you some questions then make a product recommendation for you. You can reach us at 888-233-7563, or by filling out the form below.