This keyboard remote control with an air mouse will totally change your TV game!
I love streaming TV shows and movies, but there's one thing I dislike about it. That's using my remote control to spell out the name of a show in search. It's literally one letter at a time, and I usually make mistakes and get frustrated. This keyboard remote control makes searches easy. Frankly, I don't know why someone didn't think of this sooner. Well, there's no better time than the present, I guess. Solid Signal presently carries this amazing keyboard remote control.
Easy Searching on Your TV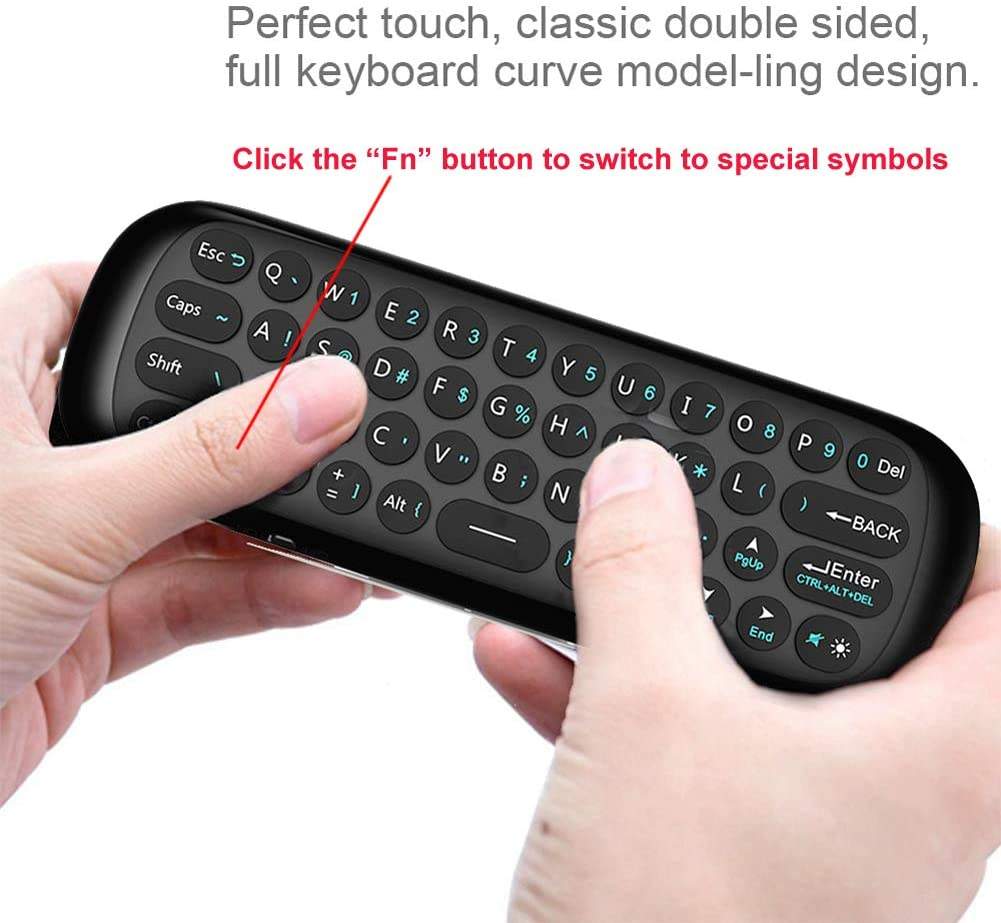 If you look at the product image, you can easily see what this remote with the keyboard is all about. It's not unlike a cell phone in its design, but the keys are bigger and easier to use. Given the popularity of cell phones, most people should be able to type faster with this than they do on a standard keyboard. It's the opposite for me because the numbers on my cell phone are too darned small. The keyboard on this remote control is the ideal "cure" for my fumbling fingers. I'm sure some of you can relate.
If you're planning to use this to watch TV, the device is compatible with:
Android TV Box

Mini PC

Smart TV

Projectors

HTPC

All-in-one PC/TVs

Firestick

Fire TV via OTG female cable
Note: This device is not compatible with all models of Samsung, Sony, LG, TCL, and Roku Smart Stick devices.
Keyboard Remote Control for PCs, Too!
When we hear the words "remote control," we automatically think of TVs. It makes perfect sense. This device also works on PCs. Frankly, I don't know why anyone would want to work on a computer from the comfort of their couch. If that's your thing, this device is for you. It's compatible with Windows, Android, Mac OS, and Linux. You can also use it with many smart TVs.
"But What About the Mouse?"
That's what you're thinking, right? How does the mouse work? I thought the same thing when I first heard about this remote mouse keyboard. Well, this features an air mouse that measures gyroscopic movement. This lets you control the cursor by moving the remote around. Seems rather straightforward to me. How about you?
Here are some other important things to know about this keyboard remote control:
It has universal support for most devices

Operates on a 2.4 GHz band

Connects on 2.4 GHz band with included USB wireless receiver

Built-in rechargeable battery
Do you want to know more about this amazing device? Here's a little video review that Stuart Sweet did.
You can always check out the keyboard remote control on our website. If you have any questions, feel free to call the customer service reps in our US-based office. They're a phone call away at 888-233-7563.
The Heartbeat of Solid Signal
We're proud to carry this keyboard remote control and other helpful electronic devices. The core of our business, however, are those things that give you a solid signal. Our specialty is TV antennas, satellite dishes, and cell phone signal boosters. This is the core of our business and areas of our expertise.
Are you considering cutting the cord or getting satellite TV? Or maybe you'd like to improve the cell phone signal in your home or vehicle? Just fill out the form below and send it to us. One of the friendly customer service reps in our US-based headquarters will reach out to you.