My friends at SureCall have a new mobile cell booster out, and it's a real improvement over the previous generation. That's what I like about SureCall. They take their products and improve them over time.
Last year's N-Range cell booster was a hit with strong power and a really nice looking shark-fin antenna. The problem, I found, was the cradle. It used a magnet attachment for the phone. This made it very easy to attach and remove the phone but it also made it impossible to use with wireless charging.
The old cradle also had a vent mount which didn't work with a lot of vehicles, and that was a problem too.
The problem in a nutshell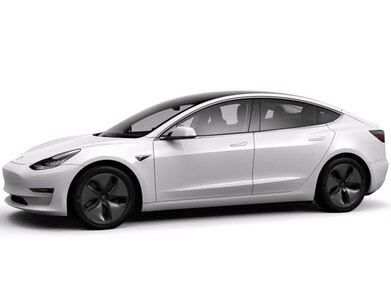 This car, the Tesla Model 3, is one of the hottest and most talked about cars of the last 12 months. Let's say you bought one, and you also own an iPhone XS or Samsung Galaxy S10, because you're obviously a techie and you want the latest.
In that case, the old vent mount wouldn't fit anywhere and the phone wouldn't mount to the cradle, because you're not going to give up wireless charging.
The solution: A new cradle
On the left, you see the old cradle mount. To the right is the new one. It's been completely redesigned to address these very complaints. Instead of a magnet mount you now get  spring clips on the side. These are big enough to hold the latest Galaxy Note, possibly even a small iPad. And, they're strong. The phone isn't going anywhere if you have it in the cradle.
On the back, where the old cradle had a vent mount, there's now a set of screw threads. You get multiple mounting options here. It comes with screw-on connectors for vent mounting or you can choose permanent or stick-on ball mounts that give you some freedom of motion. The choice is up to you and I would expect that if you wanted to, you could get some parts at your local home store and create something really custom.
Product Testing
SureCall sent me a pre-release version of this hardware to test, so I don't have a formal unboxing video for you this time. However, it was enough to confirm that the new cradle meets or exceeds the performance of the old one. It's hard to do instrumented testing on a cradle booster, since you can't really attach the cell meter to the cradle the way you can attach a phone.
Overall, this product performs very well. One of my product testers used an N-Range in the most severe possible conditions for the last six months, traveling through mountain passes where cell service would disappear. With the N-Range, call drops were almost eliminated.
Is this booster for you?
Well, if you're driving along in that fancy Tesla and you want great cell service, I think it is. Now, you have a lot of different mounting options and a cradle that lets you use the booster without sacrificing wireless charging. Now, if they built a charging coil into the next generation of cradle…
Well, I know they're still listening and who knows?