This 3 x 1 HDMI switch is the ultimate solution for your home entertainment system issues, aka "first-world problems."
So, what is the Tech Choice 3×1 HDMI Switch? It's a device that turns one of your TV's HDMI ports into three. This lets you run three devices on your TV when you might not have been able to without this switch. This device is also extremely convenient, which is of prime importance to couch potatoes everywhere. So yes, this device resolves "first-world problems," and anyone with these issues could benefit from this 3×1 HDMI switch.
When HDMI Inputs are at a Premium…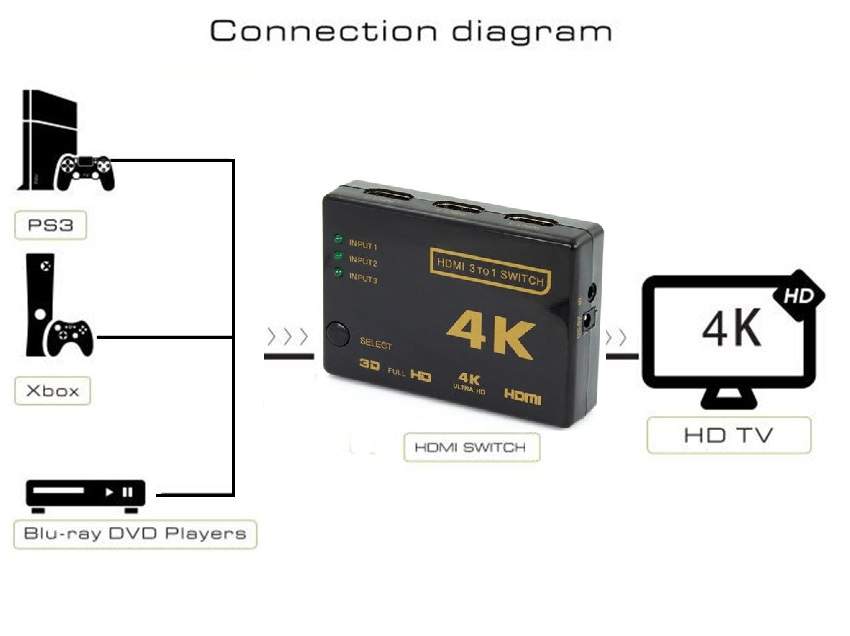 …This HDMI switch comes in handy. Let's say you want to hook up a two different video game systems and a streaming device to your TV set. This could be a problem if your set only has one or two HDMI ports. This device lets you do that without worrying about whether you have enough ports. Plus, this into the HDMI port on your TV set, and presto! You now have three ports, which are enough to connect all those devices. Enjoy!
When HDMI Ports Are Hard to Reach…
…This device also comes in handy as well. Is you're TV wedged into an elaborate home entertainment center? You know, the one that took you the better part of the day – and at least one argument with your spouse – to put together? When your TV is inside this behemoth, it can be hard to access those HDMI ports. With this HDMI port, you just reach behind the TV set and plug this in once. You'll get three HDMI ports within easy reach.
If This HDMI Switch Weren't Convenient Enough…
…It also comes with a remote control. That's right. You can switch the inputs from a distance with this convenient remote control. Imagine not having to get up from your seat on the couch or your comfy chair. Back in my day, my parents had me for something like that. Now, my generation and others have a remote control for everything, including HDMI switches… well, this one carried by Solid Signal, anyway. Talk about a first-world solution to a first-world problem!
Get Your HDMI Switch from Solid Signal
Do you want to know more about this Tech Choice 3×1 HDMI switch? Check out the product page on our website. If you've read enough to know this is the device for you, place your order today. And if you have any questions, give our US-based customer service team a call at 888-233-7563. If you're reading this after hours, just fill out the form below and send it to us. We'll be in touch.