Reprinted with permission from the WilsonPRO blog.
If you've ever tried to make a call or access the internet with a smart device deep inside a warehouse, then you've likely been frustrated by weak or nonexistent cell signals. But your cellular service is not necessarily the problem. Cell signals falter as they travel through building materials, equipment and inventory, and they weaken as they extend to the distances and heights in such large spaces.
Whatever the type of building, location or use, unimpeded connectivity is a priority. Weak signals and dead zones kill productivity, impede safety and cause angst for employees, visitors and tenants. While Wi-Fi is the standard for connectivity, it can be inconsistent in many scenarios. Cell signal can be the best (and, at times, the only) option for connecting to the internet in large buildings.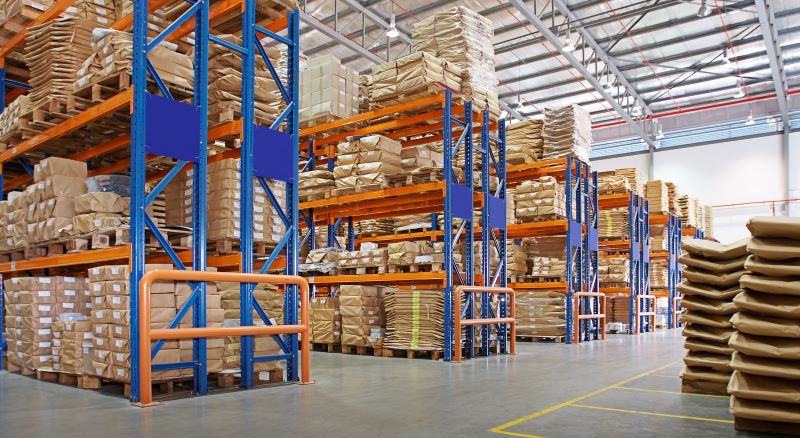 WilsonPro for the Best in-Warehouse Connectivity
WilsonPro manufactures state-of-the-art cellular signal amplifier systems that enhance mobile reception within buildings. These boosters give you powerful, reliable voice and data coverage in all types of commercial and industrial applications, including warehouses, factories, high-rises, retail spaces, apartments, hospitals and campuses. Our products help reduce congested Wi-Fi networks and give you access to different connectivity sources in times of emergency.
WilsonPro offers you cutting-edge cell signal amplification solutions tailored to your needs. All amplifiers come with cell site protective features that prevent interference with cell towers. They are also FCC-approved, 5G-ready and compatible with all U.S. carriers and mobile networks. WilsonPro products come with a 3-year warranty from purchase. Here's a look at the five best cellular signal boosters for warehouses.
The 5 Best Cell Phone Signal Boosters for Warehouses
WilsonPro's Pro 70 Plus boosts weak cell signals to give you reliable reception inside your facility. It features an easy-to-read uplink and downlink power display — helping you easily determine the direction of the cell tower and signal strength for quicker installation. It provides +12 dBm downlink power, the highest indoor coverage available.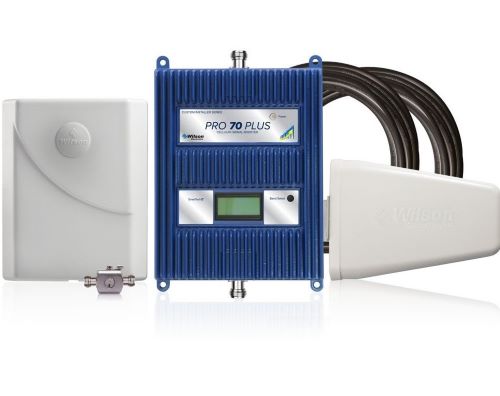 Key Features:
Up to 70 dB gain
Self-optimizing microprocessor with built-in signal meter for easy tower location
5-Band, multi-carrier cellular booster
Digital display to view Automatic Gain Control
50 Ohm or 75 Ohm kit
Expansion kits available
The WilsonPro Pro 1100 is ideal for small buildings, providing coverage for up to 35,000 square feet. Its XDR technology can capture signal from far-away cell towers, bringing continuous connectivity to extremely rural or urban environments. The Pro 1100 only requires a simple wall-mount installation.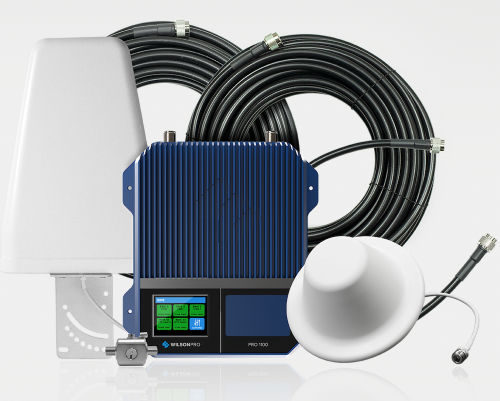 Key Features:
Up to 70 dB gain
Up to 25 dBm uplink and 15 dBm downlink power
Built-in XDR (eXtended Dynamic Range) technology
Color LCD touch screen
50 Ohm or 75 Ohm kit
Expansion kits available
WilsonPro's Pro 1050 covers spaces up to 35,000 square feet and provides robust reception in high-rise buildings. It features a dual-amplifier design that minimizes cable-run signal loss. This "inline" booster system ensures strong cellular service at a lower cost and shorter implementation timeframe. The Pro 1050 can boost signal up to 32 times for increased data speeds and fewer dropped calls.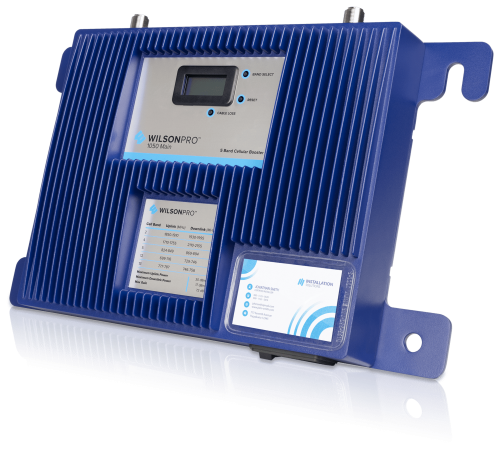 Key features:
XDR technology
Can compensate for up to 300 ft. of cable loss
Self-optimizing design for minimal installation time
Expansion kits available
WilsonPro's Enterprise 1300 covers up to 40,000 square feet with enhanced cellular signal on any network speed. Using the built-in modem, users can have wired or LTE access to the WilsonPro Cloud for remote monitoring and management. The Enterprise 1300 is designed to reach towers at far-away distances, and it produces some of the highest uplinks and downlinks available in its price range.
Key Features:
XDR Technology
+26 dBm maximum uplink, +17 dBm maximum downlink
Color LCD touchscreen display for easy set up, control and troubleshooting
Wall-mount installation (1300R rack-mount option available)
Three outdoor antenna ports for exclusive Multi-Tower Targeting Technology
WilsonPro's Enterprise 4300/4300R cellular amplifiers include industry-first network scanning capabilities, covering up to 100,000 square feet per amplifier. This time-saving feature provides details on cellular power, signal quality levels and frequencies by each U.S. and Canadian carrier — empowering users to diagnose and resolve carrier-specific issues for optimal performance. The data is accessible through the WilsonPro Cloud, which lets users and integrators manage, monitor and adjust the amplifiers remotely.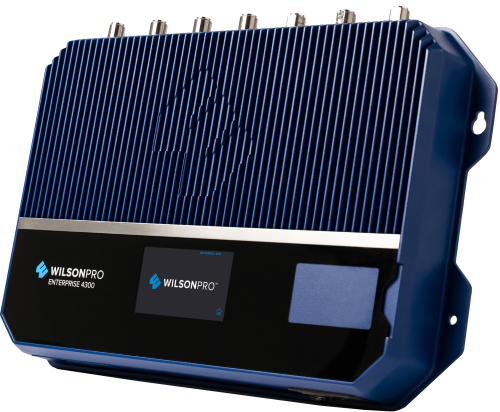 Key Features:
+26 dBm max uplink, +17 dBm max downlink on each indoor antenna port
XDR Technology
Color LCD touchscreen display
Three outdoor antenna ports for exclusive Multi-Tower Targeting Technology
Stackable and scalable for coverage in areas up to 1 million square feet
How Do Cellular Amplifiers Improve Inside Signal?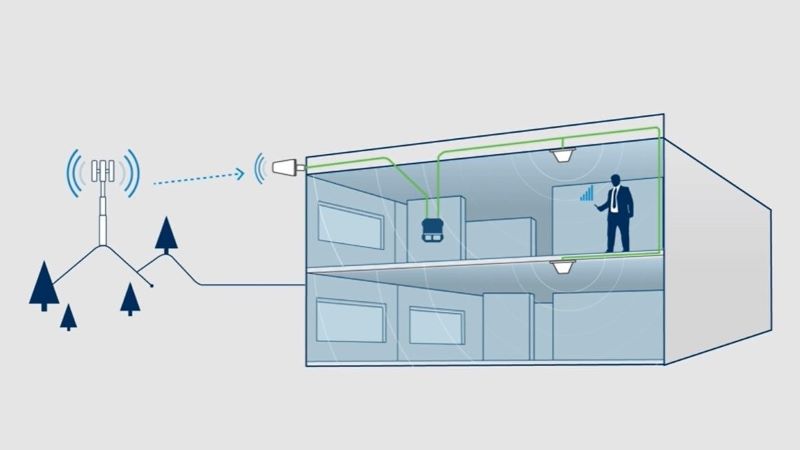 Cellular signals are radio frequency signals that start out strong at the cell tower transmission site. As they travel across miles to reach your facility, obstructions such as trees, mountains and even open air can weaken the signals. Already weakened when they arrive at your building, the signals must also penetrate building materials, walls and other obstacles to provide cell reception. This is why it's often easier to get a decent connection near the window but nearly impossible near the center of a warehouse.
Cellular signals operate with signal strengths between -50 dBm to -120 dBm. The closer you get to -50 dBm, the better the signal; the closer you get to -120 dBm, the poorer the reception. Building materials subtract dB from cell signal trying to enter a large building, especially a metal one.
Cellular amplifiers detect and pull strong outside cellular signal inside a building, increase the signal's dB through a booster unit and spread the stronger signal to the inside antenna network. The inside antennas then spread the boosted signal throughout the facility. These boosters can pick up cell signals up to 30 times fainter than what a mobile device can detect, improving call quality and data reception inside buildings of all sizes.
Before You Buy
Before investing in a cellular amplification system, you'll need to have a site survey performed. This survey should factor in building materials, the layout of spaces and racking, inventory levels and types of devices and applications to be used. Authorized WilsonPro representatives are professionals with expertise in facility implementation.
A site survey will also address any challenges to day-to-day cellular service you might face in a warehouse setting, including:
Antenna type and placement
The Internet of Things and movement of powered equipment
Interference from racking or stored materials
Firmware on access points
The cellular amplification kit you need largely depends on the size and location of your building as well as your specific connectivity needs. Signal Connect can consult with you by phone to help you discover how a cellular amplifier best fits your situation.
Contact us to learn more about how Signal Connect can provide you with an in-building amplification solution for your warehouse. Call us at 888-233-7563 or fill out the form below.