If you spend your entire life on the road, you need to stay in touch. Now I know that a lot of truckers still use citizens band (CB) radio but I also know that more and more, you're using cell phones just like the rest of us. And because you're on the road a lot, you know that you can't always get service.
Now, don't get me wrong. AT&T and other carriers do a good job of covering the highways with cell service. But sometimes there's so much traffic that you can't get through. Sometimes the cell service isn't great at the truck stop where you park for the night. There are a lot of reasons why you might not be able to get the cell service you need. And you, of all people, need good cell service, 24-7.
The weBoost Drive Sleek OTR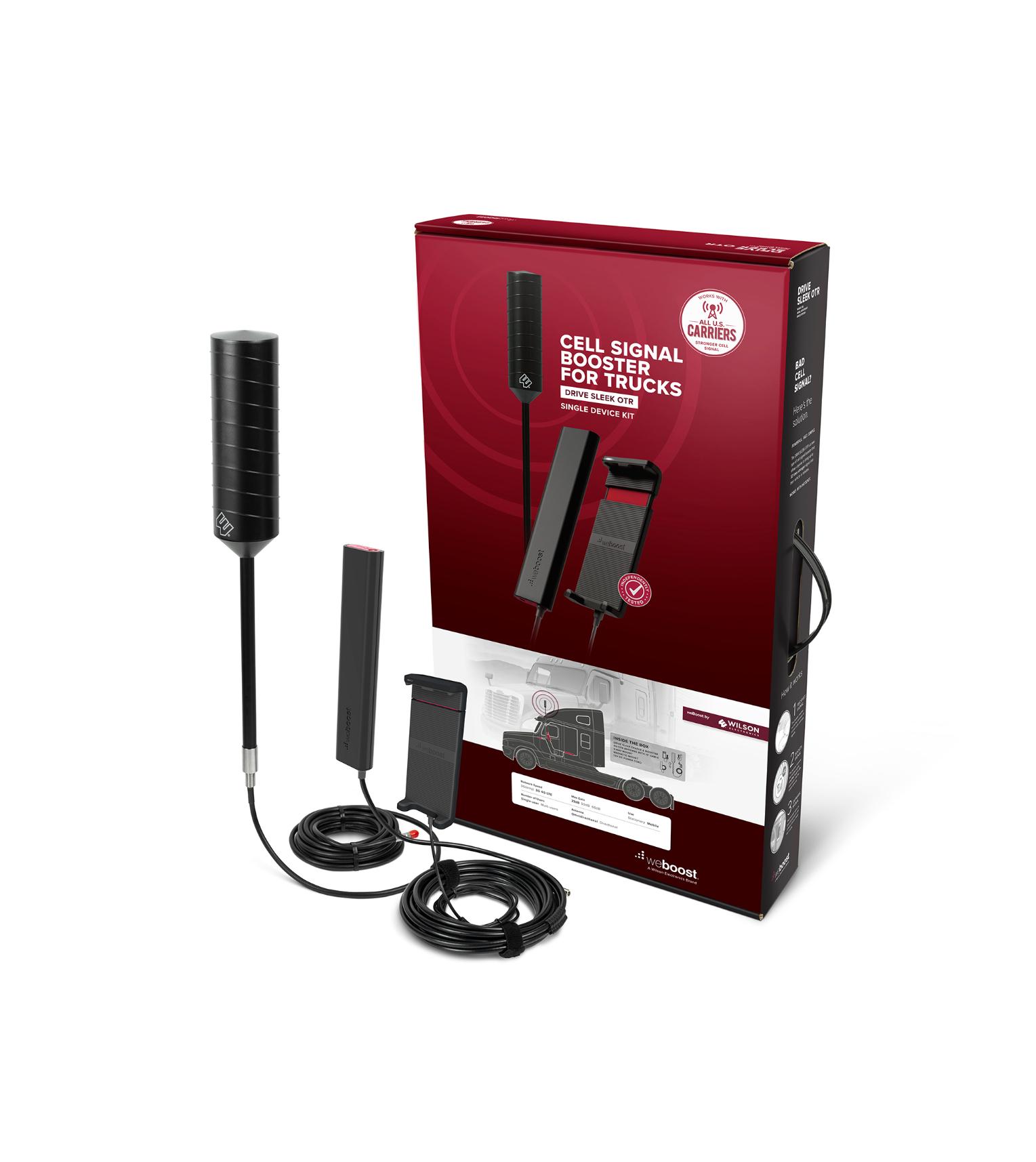 This is weBoost's Drive Sleek OTR cell booster. It's a special version of the company's Drive Sleek product line designed for truckers. With it, you'll get the ability to use your cell phone in a cradle that puts it right where you need it to be. You can use a vent mount for temporary installs or an adhesive mount for permanent installs. It's up to you. The included antenna works with any CB mounting point on your truck, making installation a breeze. If you don't have CB mounts, you can use the included mirror mount for a perfect, damage-free installation.
Why choose this cell booster?
This booster is perfect for solo operators. If you're all alone in the cab, why pay for a booster designed for multiple devices? Why not get a reasonably-priced booster that works with whatever phone is placed in its cradle?
If you change trucks, this is also a great choice for you. Installation is incredibly easy. If you use the included vent mount, there's absolutely no damage to the truck, not even glue residue. You can pick this booster up and take it out of the truck in minutes, then install it in the next truck. You'll get the benefit of all this high technology no matter which truck you're in.
This product works by putting a big, strong antenna up higher than you could hold your phone. That outdoor signal is amplified and transferred to the cradle which holds your phone in place. The result is a massive increase in power. That means clearer voice calls, faster response from GPS, and faster data transfers. In other words, you stay connected and that's exactly what you need.
With a cell phone signal booster, you'll have fewer problems in remote areas. That's a safety issue. When your truck breaks down (and sadly that's a "when" not an "if") you can't just hope the local AAA drives by. You need specialized help and if you don't get it, you're stranded. That's why a good cell connection is absolutely essential. If you're out in the middle of nowhere, you need to know that you can get the help you need.
Get a cell phone signal booster from Solid Signal
Solid Signal is your source for weBoost cell phone signal boosters! Check out the great selection you'll find when you shop our online store. You'll find solutions that will help you get great signal everywhere! It doesn't matter if you're in a tiny car or a massive stadium, or anything in between. There's a cell phone signal booster system for you. Need help picking out the right one? Call us at 888-233-7563 during East Coast business hours and we'll help you choose!