This under-desk keyboard tray from Mount-It! is the ideal work-from-home solution!
Finding room for extra computer equipment is one of the burdens of working from home. For example, I have my work computer next to my personal desktop on the kitchen table. That's because my wife has her work and personal systems on the desk in our room, while our oldest child is doing the WFH thing from our office. If space is the issue at your place, you could use this under-desk keyboard tray. It's convenient and ergonomic!
The Keyboard Tray of Convenience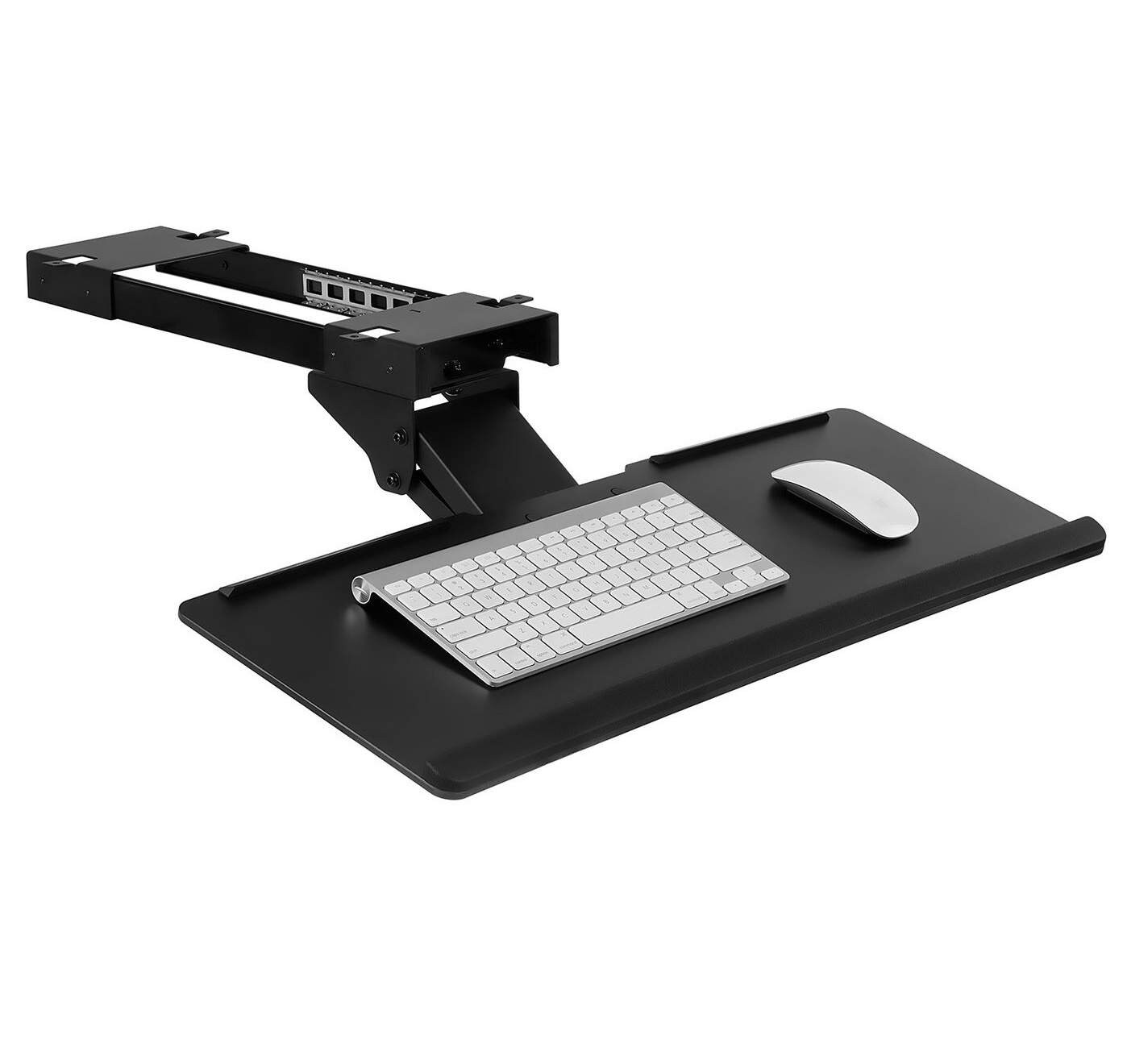 So, how does this under-desk keyboard tray save space in your home? Well, at the risk of sounding redundant, it's all in the name. This product is literally a tray that holds your keyboard and mouse. It's retractable arm lets you push your keyboard and mouse under the edge of your table for storage. It pulls out for use just as easily. You should expect nothing less from the Mount-It!, the company that brings you a variety of stand-up, sit-down desks.
It's Ergonomic, Too!
Space isn't the only thing WFHers have to think about. Comfort and long-term care are important, too. This under-desk keyboard tray has some unique features that make it ergonomic, which is to say that it's designed to help reduce physical stress, fatigue, and injury. More to the point, this keyboard tray corrects your wrist and typing posture to help prevent carpal tunnel. But how does it do that?
Again, we remind you that this is a Mount-It! product. The company has a reputation for creating ergonomic office products. This keyboard tray lets you adjust the height and tilt angle so you can position your elbows and wrists at the optimum setting for you. And, since it also positions the workstation closer to your body, you maintain a neutral working posture that's easy on your back. This position adjustment easily works like this:
Turn the knob to adjust the tilt angle (negative, neutral or positive position)

Do the same to adjust height (up to 5.5 inches total)

Re-tighten the knob to lock the position

Pull/push the plate to adjust position of tray
The ergonomics don't stop there. This keyboard tray comes with a gel wrist rest pad that reduces wrist soreness while typing and using the mouse. It also helps you make sure you're using the correct typing angle. There's even a mouse pad with wrist rest on the mouse platform. You can even put this platform on the left or right side of the keyboard, depending upon which hand is your dominant one.
Get This Keyboard Tray from Solid Signal!
Is this under-desk keyboard tray something you could use in your home office? Solid Signal has plenty in stock. What's more, we can ship it to you quickly because our warehouse team isn't working from home. (They are following every protocol, wearing masks, and practicing social distancing, though.) Go to our website and order yours today. And if you have any questions, call our US-based customer service reps at 888-233-7563.
Speaking of Working from Home…
Work from home has always been a thing, but it's more of a thing now. We don't have to tell you why that is. (We're not that kind of blog.) The Solid Signal Blog has been on the work-from-home thing since the beginning. Our resident blog master Stuart Sweet has been leading the charge from his home office.
When the rest of us started our WFH journeys, Stuart offered his helpful tips and guidance. As we started to get the hang of it, some of us came up with our own words of wisdom for navigating the work-from-home life. You can check out our blog post that features work from home tips from our team.