Do you want to cut, strip, and compress your RG59 and RG6 coax cables? If so, Solid Signal recommends this coax cable compression kit!
Cutting, stripping, and compressing coax cables are a huge part of TV antenna and satellite dish installations. Most homeowners simply pay a professional to take care of this. But isn't saving money one of the biggest reasons why you cut the cord? If you answered "yes," then you should learn how to work with RG59 and RG6 coax cables. Doing this properly means having the right tools.
Three-in-One Coax Compression Tool Kit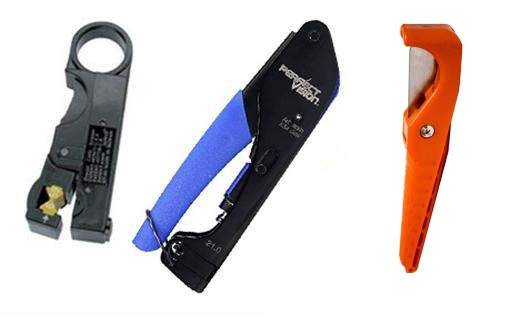 This coax cable compression tool kit is a must-have for any do-it-yourselfer and amateur installer. (Professional installers already shop Solid Signal for these coax cable kits.) It comes with three tools – a cable cutter, ratcheting compression tool, and cable stripper. That's everything you need to cut, strip, and attach a connector to your RG59 and RG6 coax cables. We offer these tools in a three-in-one kit for one low price. If you're ready to learn something new, or you're an experience cable-maker who needs to update his toolbox, this kit is for you.
One More Thing About Coax Cable Kits…
No one becomes a coax cable expert simply by saying, "I can do that." It takes some knowledge and a little bit of practice. The experts here at Solid Signal are happy to help you master the art of working with RG59 and RG6 coax cables. First, we offer some details on the cable cutter and cable stripper tools in this kit. We also provide a detailed yet easy-to-use tutorial on how to make your own cables. All this information will help you on your cord-cutting journey.
Are you ready to work with RG59 and RG6 coax cables? Then I suggest this coax cable compression kit from Solid Signal today. In other words, Buckler says, "Buy it!"