"I'm bored."
This is the bleat of millions of young Americans who find themselves with little to do as they stay home. Older Americans, perhaps more familiar with periods of peace and quiet, don't seem to say that as much. But, fair enough. Each generation is shaped by its experiences, and for a young millennial or Gen-Zer, this may be the first time they've been in such a solitary place.
"The end of the internet."
The "end of the internet" meme may actually be older than some of the people I'm talking about. Know Your Meme traces the term, a long with "last page on the internet," back to the late 1990s. A top search result is hmpg.net, which looks like this:
---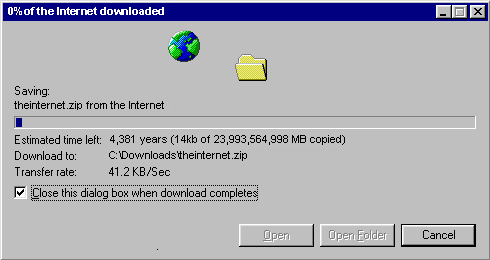 ---
Of course, we all realize it would be impossible to find the end of the internet since new content is being added at a rate that would make it impossible to consume. But that's not the point. I've gotten horribly off topic.
The point is, streaming can be boring.
Chances are you've been at home for a while now. If you're not working, you've been bingewatching. You've probably exhausted all the things you've always meant to watch and you find yourself hopelessly mashing buttons looking for the next thing. Maybe it doesn't stop your mind from racing. It's time to rediscover live TV.
Yes, you can get live TV over the internet. It's pretty good, but if you really want a lot of content, if you really want to know what's going on — or avoid what's going on — you need satellite TV.
Remember when we thought we didn't need all those channels?
I bet your perspective on a lot of things has changed in the last six weeks or so. Now when you want to be entertained, you want to be entertained. There's something out there you really want to escape from. And, a few paltry channels of live TV aren't going to do it. Or, maybe you want to be more informed. The same thing… one or two news sources aren't going to satisfy you.
There's only one way to get the massive firehose of live content you need right now and that's satellite TV. With satellite TV you get hundreds of channels of live TV. There are over a dozen news channels including international ones. It's maybe more important to say that there's just tons of content out there that isn't news. If you liked Tiger King you'll find a lot of trash TV. If house hunting is your vibe, there are three or four whole channels that concentrate on it. You'll even find old TV shows, sappy movies, and more. It's just what you need right now.
The safest bet: wireless installs
With an install of a Genie system and wireless clients, a tech spends most of their time outside and comes in only for a short while to install wireless clients. There's no time spent running cable and it's a lot easier to feel good about someone coming into the home. The activation process is faster than ever before and a lot of it can be done over the phone before the installation appointment. That way you can stay safer.
Ready to get back on the satellite TV train?
If I've convinced you that it's time to reconsider satellite TV, give the experts a call. Our installation team, Signal Connect, is ready to help you get connected now! Call us at 888-233-7563 during East Coast Business Hours. We are open and plan to stay open! If it's outside business hours, fill out the form below and a rep will get back to you, usually within one business day.
Because, let's face it. The world has changed. Your assumptions have changed. It's time to take a fresh look at satellite TV.