Apartment dwellers have it tough right now. A year ago, urban living was the must-do trend of the decade. Today, more of us are aching for the open spaces where we can socially distance a lot more easily. But, if you're a renter you may not have a choice about when to move. You might find yourself in an apartment for up to another year, unless you can break your lease.
That means making yourself comfortable and as safe as possible. It also means being smart with your entertainment dollar. Put those together and it spells "TV Antenna."
Twenty years ago, TV antennas were a thing of the past. People couldn't wait to get them off their roofs, and they were getting hard to find. Of course, that's when the average cable bill hovered around $30 a month. Today, pay-TV costs are high, and even though you get a lot of value from pay TV, it's still a pricey proposition. Once you are past that teaser rate, expect to pay about $115 a month for a live television package. As I said, you get a lot for that, but it's still a lot of cash.
TV antennas are back
Thanks to digital TV signals that allow for smaller antennas, it's easier than ever to get those distant signals. That's great news for apartment dwellers who don't have the option to put a big antenna up on the roof. With smaller antennas, you have more choices. For me, there's one that really stands out.
The Televes Dinova Boss Mix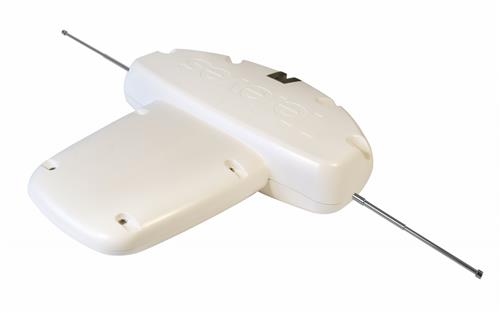 This is the Televes Dinova Boss Mix. It's a funny name, but that's really not a big deal. You can call it the Dinova, or just "the antenna." The name isn't really the important part. It's what it can do for you.
This antenna can be used indoors or out. It can clamp to a railing or to any post. It has extra telescoping arms that can help you get VHF channels, if there are some in your area. Best of all, it comes with a super-clean amplifier that will help you bring in stations from up to 55 miles away. If you don't need the amplifier, simply don't plug it in and the antenna will still work.
The Dinova Boss Mix is a real winner, with proven performance based on tests I've performed myself with top-notch testing equipment. It's small, it's powerful, and it fits where you need it to fit.
If you choose to use it outside, don't forget a piece of flat RG6 cable so that you can run it through the crack in  window or door and still close the window or door. If you use it inside, you can position it on any flat surface. You probably won't have to move it because it picks up signals from a very wide area.
Get the antenna the professionals recommend
This antenna is sometimes in short supply because professional installation companies use them for many of their customers. One large company installs hundreds per month. But, at Solid Signal we almost always have a great stock ready for immediate delivery. Get yours now from Solid Signal!